The Championship Course
Putney to Mortlake

The Boat Race course, known as The Championship Course is 4 miles, 374 yards or 6.8 km long.

It stretches between Putney and Mortlake on the River Thames in south west London. This course was first used for The Boat Race in 1845 and has been used for every Race since; apart from 1846, 1856 and 1863 when the race was held in the opposite direction between Mortlake and Putney.

The Fulham/Chiswick side of the course is known as the Middlesex side. The Putney/Barnes side of the course is known as the Surrey side.

The Boat Race is rowed upstream, but is timed to start on the incoming "flood" tide.

The Men's Boat Race is an hour and a half before high tide, with The Women's Boat Race a further hour before so that the crews are rowing with the fastest possible current.
THE BOAT RACE
---
The first Men's Boat Race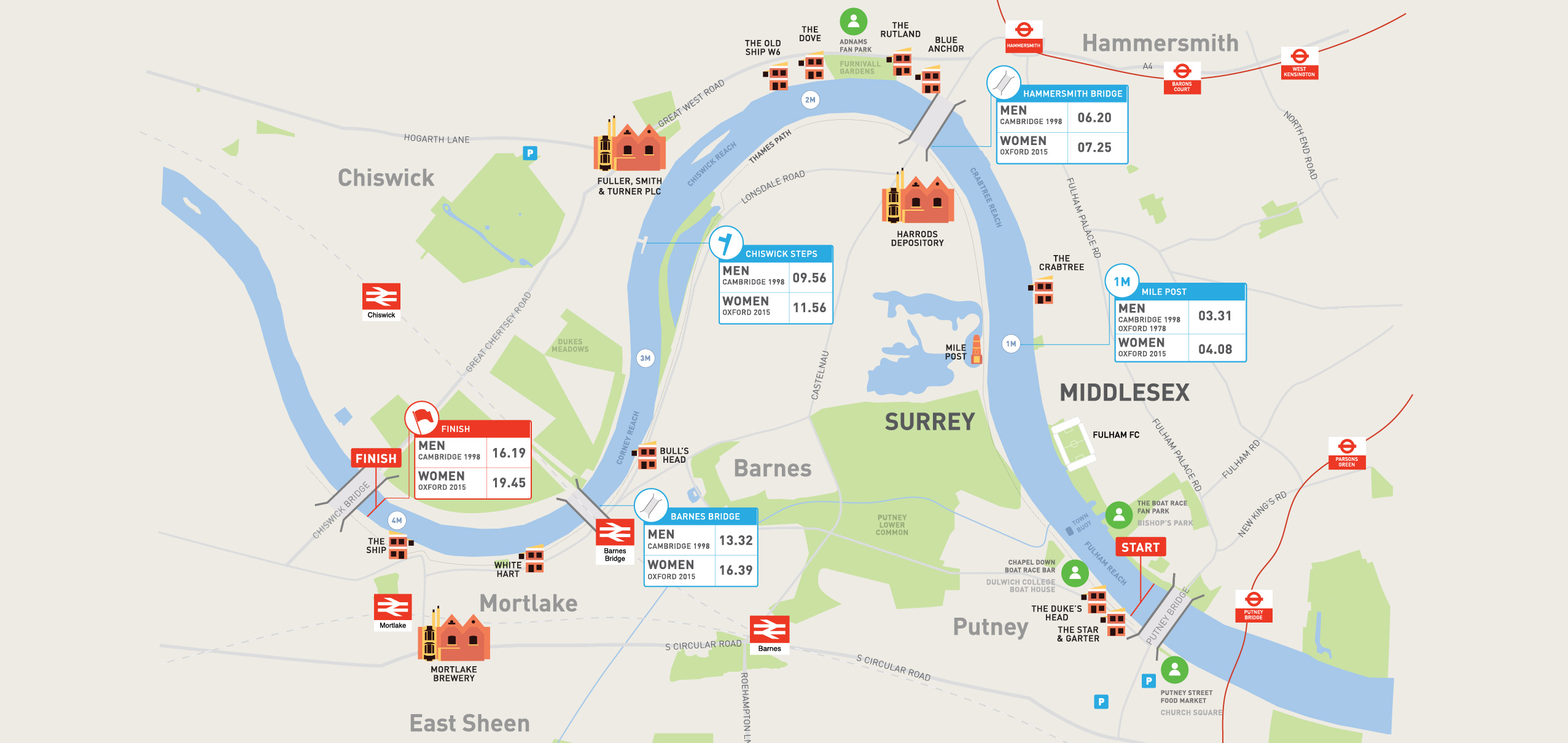 University Boat Race Stone

The University Stone is set into the towpath on Putney Embankment a few metres below Putney Bridge.

The races will start from two stake boats moored so that the competitors' bows are in line with the University Stone.

There is an equivalent stone set into the bank, adjacent to The Ship pub in Mortlake, at the finish of the race.

Hammersmith Bridge

At Hammersmith Bridge the advantage of the Surrey bend starts to come into play. Traditionally cox's aim for the second lamp post from the left as they pass under the bridge.

80% of crews ahead at Hammersmith go on to win.  It is at this point the cox on the Surrey station can steer a course to capitalise on the advantage of their advantage, trying to push the Middlesex crew as wide as the Umpire will allow.

The record to this point is held by Cambridge (1998), 6mins 20sec.

Chiswick Eyot

Pronounced eight, Chiswick Eyot is a small uninhabited island, formerly used for growing osiers (a type of Salix or Willow used for basket making), it is now a nature reserve.

The river is very briefly straight here and as a result can be exposed to some rough conditions – such as The Boat Race in 2006. Often one crew will make their decisive move as they approach the island.

The Finish

The finish is just before Chiswick Bridge, marked by the University Boat Race Stone on the Surrey Bank and a post in the river on the Middlesex side painted in the University's colours.

Chiswick Bridge was opened by the Prince of Wales in 1933.

After months of training, if not years, it is here that the winners express their joy and the losers their despair.

The record is held by the 1998 Cambridge crew who completed the course in 16mins 19sec.  The time however means little when considered against the result of the day: won or lost.
---
COUNTDOWN TO THE CANCER RESEARCH UK BOAT RACE DAY 2018