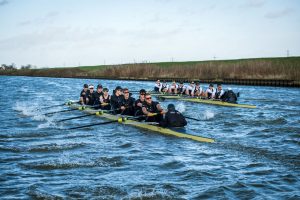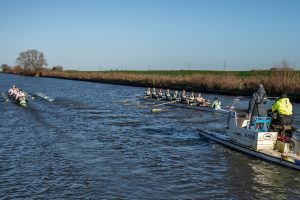 Oxford and Cambridge Trial Eights Races
 The 2021 Boat Race Trial Eights races for both Oxford and Cambridge took place at the 2021 Boat Race venue on the River Great Ouse, just outside the city of Ely.  This follows the decision to move the location of The Boat Race because of the challenges of holding a high-profile event within COVID restrictions.
Significant planning and risk assessments were undertaken to ensure the races were COVID compliant to ensure the safety of everyone involved. Attendees to the event were limited to crews, coaches, and the minimum number of operational support staff.  The event was not publicised in advance and the racing on 17th and 19th December was held very much behind 'closed doors' as is the plan for 4th April 2021.
The 2021 Boat Race course will start where the 1944 Men's Boat Race finished, a point marked by a stone set in the grass along the footpath on the east bank.  The course is straight with a gentle bend to the west as it travels from the Adelaide Bridge towards Sandhill, Littleport giving a course of 4,890 m.