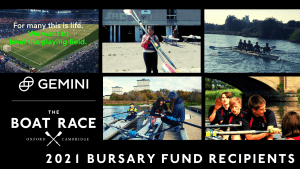 We are delighted to announce the five projects selected as the recipients of The Gemini Boat Race Bursary Fund:
Brixton Wings
Behind Every Kick
Ely College
The Firhill Youth Project and Community Sports Hub
Warrington Youth Rowing
Applications for the fund, which opened in June, were received from all over the UK from a wide range of clubs and organisations focused on making a difference to the lives of young people. The judging panel were both impressed by the dedication and commitment of the; volunteers, coaches and youth workers involved in all the projects.
The Five Projects
This organisation empowers young people through a shared love of sport; the charity's programmes help develop skills learned through playing sports which can be harnessed to create opportunities in students' wider lives. Gemini and The Boat Race are delighted to be supporting the BEK Development Programme which delivers a series of modules unlocking a lifetime of potential in young people.  These sessions will be delivered by two BEK Trainers from September to December 2021 to 6th Form students at School 21, Stratford London. The students will then plan and execute a range of projects from January 2022 onwards, which build on the BEK Development modules and their introduction and exposure to the sport of rowing.
For more information see website LINK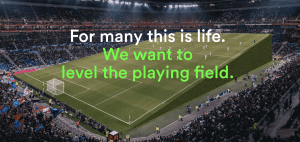 The Gemini Boat Race are delighted to support this 'can do' grassroots organisation formed in 2010 whose mission is to advance the life chances and 'lived experiences' of young people, who might fail to engage with, or have access to niche sports. Brixton Wings helps participants realise essential life skills through sport. Gemini Boat Race funding will support underrepresented 11–18-year-olds from Brixton and Lambeth to join 'Learn to Row' development rowing courses over the half-term holiday in Autumn 2021 and will support life coaching and intergenerational conversations. Gemini and The Boat Race recognised the impact of Brixton Wings work, in improving coordination and concentration, gaining confidence in communicating and supporting positive behaviours and wider life outcomes.
For more information see website LINK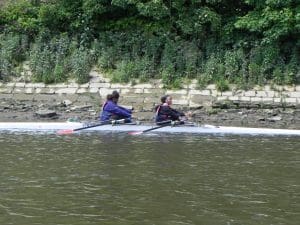 Located near to Cambridge University Ely Boathouse, Ely College has partnered with Isle of Ely Rowing Club to offer rowing taster sessions to over 180 students.  The Gemini Boat Race Bursary award will give students the opportunity to take part in an activity previously perceived as financially, physically or even mentally inaccessible. Students will have the opportunity to showcase their evolving  teamwork and physical skills in local and national competitions, both on the water or as part of indoor Ergo teams.  The college partnership with Isle of Ely Rowing Club, has meant rowing has never been more popular at the school and the support from Gemini will allow for the continuation of summer and Easter taster sessions to ensure the maximum number of students will have any barrier removed from taking part in rowing.
For more information see website LINK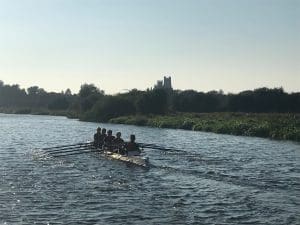 The Firhill Youth Project and Community Sports Hub
This Community Sports Hub has worked very closely with the community in North Glasgow, to provide sports opportunities that best suits the needs of the area. Based at the Firhill Basin, beside the Partick Thistle Football Club Stadium – the hub provides free weekly rowing sessions along with other water sports activities for the local community.  With support from volunteers and college students, there is always a warm welcome to young people from North Glasgow. Since 2019, the hub has provided over 120 11–18-year-olds, with the opportunity to row, who otherwise may not have had the chance to participate. The Gemini Boat Race Bursary is delighted to support the expansion of this project to double the number of free rowing sessions offered and enable more young people to experience the benefits of taking part in sport.
For more information see facebook LINK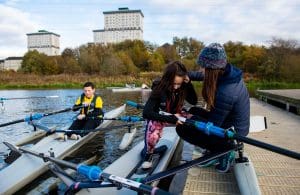 Opening empty rowing clubs across the UK for daytime access so that hundreds of school children can learn to row is the ambition of this initiative.  Founded to offer rowing to young people who might otherwise not have the opportunity to join a rowing club, Warrington YR now has two additional hubs in Liverpool and Northwich.  In the space of five years, 28 secondary schools and 2 special schools now have over 300 students involved in rowing at local rowing clubs. The Gemini Boat Race award will support the WYR ambition to grow the number of schools involved through the appointment of a school liaison officer.
For more information see website LINK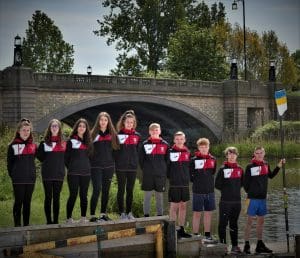 The Boat Race Chairman, Tim Senior says, "We are thrilled to work with our partner Gemini in supporting these five projects, making a difference to young people in the UK. Each project brings a unique opportunity to experience and take part in rowing in a local community, and has been carefully selected from a wide range of applications because of the impact each one can have on youngsters' lives. We hope that the combination of rowing and the life skills offered by each project, will mean that participants can step forwards in their lives. We look forward to meeting the young people who join the projects and hearing more about their rowing journey.
We would also like to thank all those that applied but were unsuccessful. We really appreciated the amount of time and effort that went into all the applications which were of an incredibly high standard, we hope that they will consider reapplying for Boat Race support in the future."
Blair Halliday, Head of UK, Gemini says: "We are proud to announce the sponsorship of these five selected projects through the Gemini Boat Race Bursary Fund, which support young people across a range of communities in the UK. The projects we have chosen to sponsor provide life-changing opportunities to make sport and rowing both inclusive and accessible to young people who would otherwise be excluded. The popularity of the sport has grown tremendously over the years, and we are excited to help grow the sport further by bringing it to a more diverse and inclusive audience."